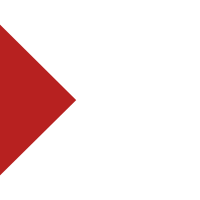 ---

BUILD YOUR IOT CLOUD SOLUTIONS WITH OUR IN-DEPTH EXPERTISE IN AWS IOT
IoT cloud platforms are cloud-based middleware software and considered as the 'plumbing' of IoT solutions. They deliver IoT and cloud computing capabilities as a service over an end-to-end platform. IoT cloud platforms provide ready-to-use software components which can be customized to suit your IoT cloud solution with minimal effort.
AWS IOT CLOUD PLATFORM
AWS® announced the availability of its IoT cloud platform, AWS IoT, in October 2015. AWS describes it as "a managed cloud service that lets connected devices easily and securely interact with cloud applications and other devices". They claim that AWS IoT can scale to billions of devices and trillions of messages and can process and route those messages to AWS endpoints and to other devices reliably and securely.
AWS IoT stands out due to its feature-rich portfolio and significant customer base. This platform includes a device gateway, a rules-based engine, a registry where you store device properties and track connectivity status. Like other AWS services, the AWS IoT cloud platform is metered on a pay per use model, based on Connectivity, Messaging, Device Shadow usage (device state storage), Registry usage (device metadata storage), and Rules Engine usage (message transformation and routing). This approach provides you with transparency and a cost-effective price regardless of your workload type, because you only pay for the specific AWS IoT Core components that are used.
Have you selected AWS IoT for your IoT solution?
Connect with us today to rapidly and efficiently build your AWS IoT cloud solution.
AWS IOT WHITE PAPER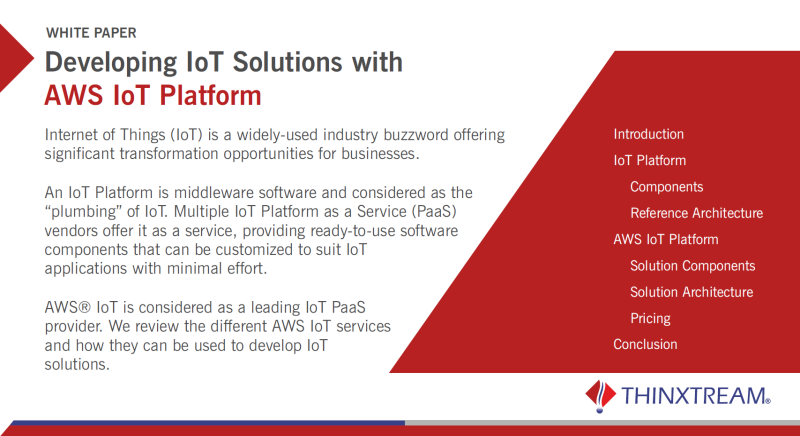 Read our white paper on Developing IoT Solutions with AWS IoT Platform, to learn more about the different components and reference architecture of a typical IoT platform and how the AWS IoT platform realizes them through its managed services.
AWS IOT EXPERTISE
Thinxtream has extensive expertise in developing IoT cloud solutions for your Connected Products and Smart Services using the AWS IoT cloud platform.
As an AWS Technology Partner, Thinxtream leverages the power of the AWS IoT Platform services to quickly deliver value added IoT products and IoT solutions for your Connected Products and Smart Services. With the strong backing of AWS IoT cloud platform components, Thinxtream is able to help you to deliver new business models driven by real-time data, release IoT products and IoT solutions, which improve over time, operate at increased efficiency and make intelligent decisions.
Over the years, Thinxtream has delivered IoT solutions in consumer, industrial and enterprise domains and built strong expertise in the following core services from AWS IoT.
Securely connect small, low-power devices such as microcontrollers to AWS cloud services like AWS IoT Core or to more powerful edge devices running AWS Greengrass® using Amazon FreeRTOS®
Manage onboarding, indexing, search and over the air updates of fleet using AWS IoT Device Management
AWS Automatic provisioning with Just-in-Time registration to improve efficiency during device onboarding
Bring intelligence to the edge and device by using AWS Greengrass
Secure long-lived and low latency connections with bi-directional communication with TLS mutual authentication over MQTT, WebSockets, HTTP using AWS Device Gateway
AWS fine-grained password policies which offer per-device and per-user control
Scalable, low-latency, reliable message routing using Amazon MQ® Message Broker and AWS IoT Rules Engine®
Leverage AWS IoT Device Shadow to maintain real-time sync between device and its cloud representation
Collect, structure, and search IoT data from industrial equipment at scale using AWS IoT SiteWise®
Route device data to and from AWS services using AWS IoT Rules Engine
Visually connect different devices and Web services to build IoT applications using AWS IoT Things Graph
Analyze streaming data from the device using Amazon Kinesis®
Make machine learning predictions using AWS Machine Learning, Amazon SageMaker® and Amazon Elastic MapReduce®
Collect data from multiple sources, pre-process and enrich, store, run ad-hoc and in-depth queries using AWS IoT Analytics®
Audit device configuration, monitor behavior, identify anomalies, and generate alerts using AWS IoT Device Defender®
AWS IOT CASE STUDY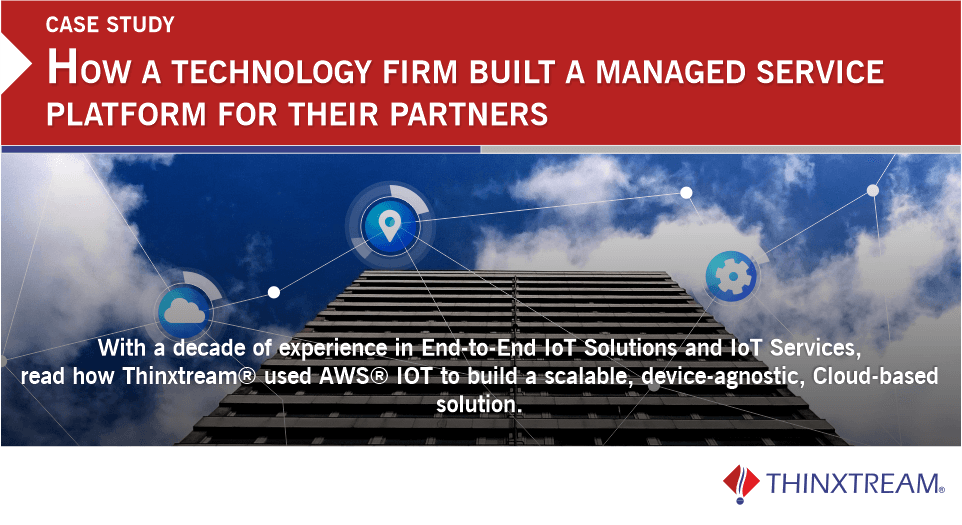 A Technology Firm leveraged Thinxtream's IoT Services and our advanced expertise in AWS IoT to build a managed service platform to offer subscription-based, device-as-a-service to end-users for multiple device types and models, through channel partners. Our solution used the AWS IoT platform, associated AWS cloud services such as AWS IoT Device Gateway, JIT Provisioning, Device Shadow and Rules Engine, AWS Lambda®, AWS Identity & Access Management (IAM), Amazon Cognito® and Amazon API Gateway, and associated Amazon cloud data services such as Amazon DynamoDB® and Amazon S3®. Read the Case Study.
EXPLORE MORE
Interested in discussing your
IoT Solution needs?